In2care® Bug shield repellent
Mosquitoes are a nuisance and transmit diseases all over the world. Instead of using synthetic chemicals, In2Care® Bug Shield spray is based on Eucalyptus citriodora plant extracts; nature's most effective way of protecting yourself against mosquito bites.

In2Care® Bug Shield is a novel spray that can be applied on human skin as a repellent to prevent mosquito bites. The active ingredient of the spray is Citriodiol®, an extract of lemon eucalyptus oil. These skin-soothing plant extracts have a long tradition as natural insect repellents and provide an effective remedy against biting insects.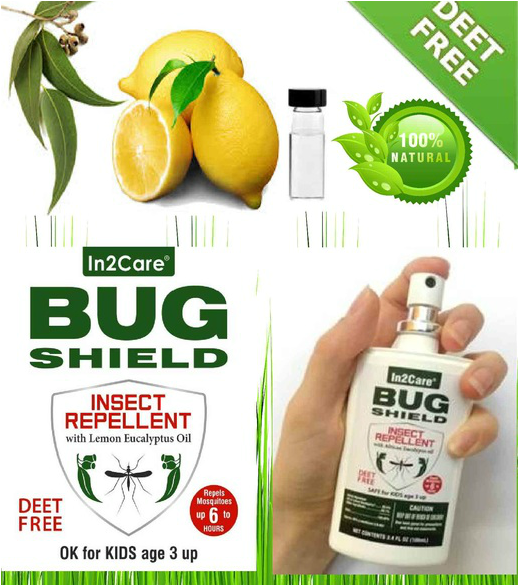 How does it work?

Oil of lemon eucalyptus. The active ingredient of Bug Shield spray is lemon eucalyptus oil, which is a natural derived product that has pesticidal properties and repels insects. Bug Shield is effective against a wide range of biting and nuisance insects, including disease vectors such as mosquitoes and ticks. Applying Bug Shield spray on exposed parts of the skin will deter insects and help protect against insect bites. Scientific testing shows that it is comparative to DEET in longevity of action and repellency.

In2Care Bug Shield Insect Repellent Fact Sheet - Click Here

Features -

Botanically-based repellent
OK for children age 3 up
Tested in own laboratory
As effective as DEET
Offers 6 hours protection
Pleasant scent
Non-sticky spray
Clinically tested
---
A safe alternative to chemicals
​In2Care® Bug Shield spray has a high efficacy and a low toxicity profile. Unlike DEET, In2Care® Bug Shield spray is a green product and smooth to the skin. The active ingredient, lemon eucalyptus oil, is harvested from plants in an environmentally sustainable manner. The Centre for Disease Control and Prevention recommends the use of lemon eucalyptus oil to help people avoid the bites of disease-carrying mosquitoes. It is the only naturally-sourced active ingredient to receive this recommendation.